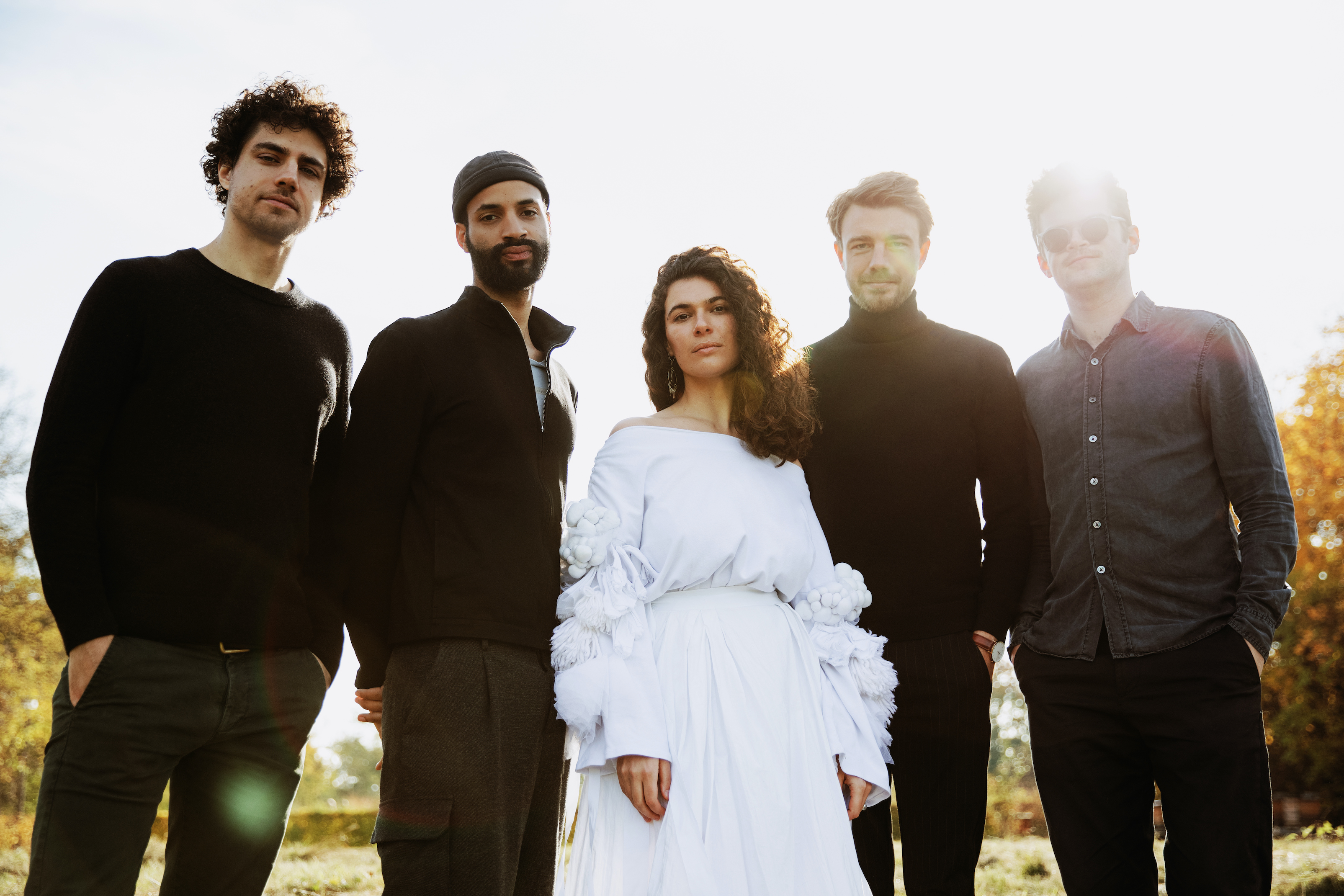 GANNA GRYNIVA voice, effects, composition
MUSINA EBOBISSÉ/ PHILIPP GROPPER tenor saxophone
POVEL WIDESTRAND piano
TOM BERKMANN bass

MATHIAS RUPPNIG  drums
"Home" by "Ganna" is certainly an album of the year, poignant, powerful, great singing and playing!
Ulli Habersetzer, Deutschlandfunk 11/2022
She came to Germany from Ukraine with her parents in 2002 at the age of 13. Today she is one of the most impressive singers on the German jazz and world music scene. Her recently released album is called "Home" – full of stirringly beautiful songs in refined arrangements. A jazz highlight of the year, according to Roland Spiegel (Bavarian Radio Broadcast Station):
A mood and a voice that immediately captivate. A gentle pushing forward of tones. A – still – quiet celebration of the moment. A blossoming. It is the voice of singer Ganna Gryniva. Her new album "Home" begins with a song that is about spring. A folk song from the country from which Ganna Gryniva once came to Germany, the Ukraine. Even about spring one can hardly sing more beautifully than she does here. These shimmering colours in the voice. This pliancy of song. And this naturalness. These notes are like gentle and increasingly firm touches at a dance. And yet this is a song full of symbolic power at this time. Because spring is the season after a hard winter. The powerful new beginning after difficult months.
Behind the singer there is also an excellent band: the French saxophonist Musina Ebobissé, the Swedish pianist Povel Widestrand, the bassist Tom Berkmann from Bavaria and the Austrian drummer Mathias Ruppnig. A strong team for very expressive music.
One of the highlights of the album is a song about a mother and her son saying goodbye before he goes to war. He asks her for forgiveness in case he doesn't come back alive. It is a folk song that already gained significance in the winter of 2013 to 2014 – when over a hundred people lost their lives after the violent crackdown on protests against pro-Russian policies. It became a requiem for the victims. In 2022, this Ukrainian song is one of the most frequently sung.
It is deeply moving the way it is sung here. Interpreted in such a way that neither sentimentality nor excessive pathos arise. It is intimacy, it is beauty, and it is pain that is expressed here through fine and highly differentiated music. These recordings carry a deeply human message into the world. And it is precisely because this music also allows itself to be agitated and restless, and above all never smooth, that it is particularly gripping. Ganna Gryniva is a moving singer and interpreter, fascinating how directly she translates emotions into music. And an impressive mediator of songs that in these times – and sung in this way – should interest many people in the world.
Roland Spiegel, Bayerischer Rundfunk
Ganna Gryniva (UA/D), born in 1989, grew up near Kiev and moved to Germany with her parents when she was 13. The singer, composer, pianist and activist, who has been living in Berlin since 2013, unfolds her various cultural roots in music. She is actively committed to spreading the cultural heritage from Ukraine. In the GANNA quintet and in her solo programme for loops and electronics, she combines jazz with Ukrainian folklore, classical and experimental music, and in this way has found her very own way of passing on the old song heritage.In 2019, Ganna completed her jazz studies at the Franz Liszt Academy of Music in Weimar, where she studied with Michael Schiefel, Jeff Cascaro and Frank Möbus. She also holds a Bachelor of Arts in Philosophy from the University of Leipzig. Currently she is working on a new album with Daniel Santiago and Wanja Slavin.
Musina Ebobissé (FR) is a french tenor saxophone player living and working between Berlin and Paris. In 2013 Musina enters the Jazz Institut Berlin, where he studies, with Peter Weniger, John Hollenbeck, Jim Black, Kurt Rosenwinkel and Greg Cohen. He completes a bachelor's degree in jazz performance in 2017 and a master's degree in jazz composition in 2019. In 2018, Musina Ebobissé won the second prize of the International Jazz Composition Contest of Katowice. In August 2019 Double Moon Records released the debut album of Musina Ebobissé Quintet "Timeprints" that was nominated for the Deutsche Jazz Preis in the category "Best Debut Album 2021". 
Tom Berkmann (DE) is a German bass player. Still being in high school Tom started studying Jazz Bass at the Richard-Strauss-Conservatory in Munich with Paulo Cardoso. After graduating from school he moved to Berlin to study at the Jazz Institute. He was a DAAD scholar (German Academic Exchange Service) and graduated from Manhattan School of Music in New York with a Master of Music degree. He was a semifinalist in the Jazz Competition of the International Double Bass Convention "Bass 2010" in Berlin. For composing and performing the soundtrack of the movie "Oh Boy" he received the German Academy Award for Best Filmscore and the German Critic's Award for Best Soundtrack at the Berlin Film Festival Berlinale in 2013. In September 2021 Whirlwind Recordings is releasing the second album of Tom ́s Modern Jazz group "Scopes".
Mathias Ruppnig (AT) is an Austrian drummer and composer. He is the musician in demand in the Berlin jazz scene. With his own projects "Mathias Ruppnig Quintet", "DACH" and SCOPES he tours Europe and Asia regularly. He completed both a Bachelor and Master's Degree at the University of Music and Performing Arts, in Graz, Austria. As a leader and composer he released already four records on well established labels such as British based Whirlwind Recordings. In 2014, he won the "Downbeat Award for College Graduate Outstanding Performance" in the Latin group category with the KUG Composers' Ensemble. Since 2018 Mathias is a member of the Tobias Meinhart 4tet & Kurt Rosenwinkel (Sunnyside Records).
Povel Widestrand (SW) is a Swedish pianist living and working in Berlin. In 2017 he completes his studies in jazz piano at the Jazz Institut Berlin where he studies with Kurt Rosenwinkel, John Hollenbeck, Greg Cohen and Wolfgang Köhler. In 2015 Povel ́s trio HOLON receives the 2nd prize in the Jazz Competition at the Burghausen Jazz Fest. In the same year Povel becomes artist in Residence at Music Matters Sri Lanka, also performing solo at the MusicMatters Festival 2015 alongside with other international acts. In 2017 he is featured as a soloist with Bohuslän Big Band as a part of their project "Up & coming jazz talents". In 2018 the Swedish radio honors him with the title of "Newcomer of the Year".