GANNA
GANNA GRYNIVA voice, effects, composition
JULIAN SARTORIUS drums, percussion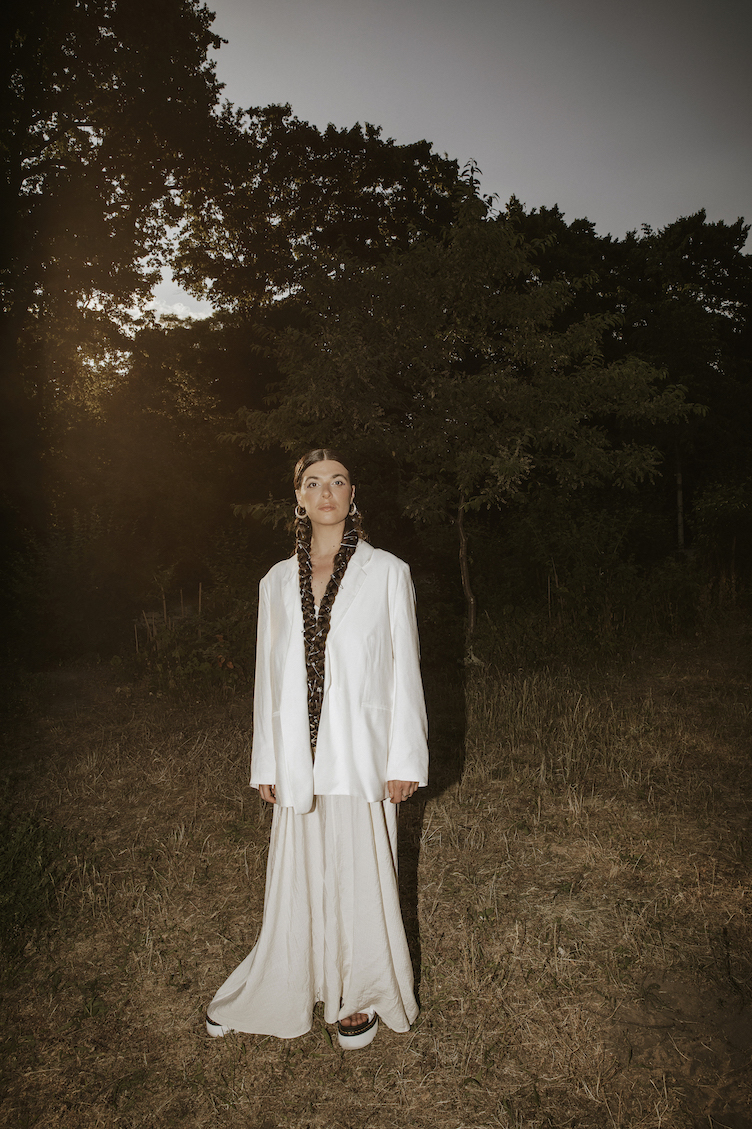 GANNA
GANNA GRYNIVA voice, effects, composition
ULI KEMPENDORFF/ PHILIPP GROPPER tenor saxophone
POVEL WIDESTRAND piano
TOM BERKMANN bass

MATHIAS RUPPNIG  drums
"Home" by "Ganna" is certainly an album of the year, poignant, powerful, great singing and playing!
Ulli Habersetzer, Deutschlandfunk 11/2022
For native Ukrainian Ganna Gryniva, old folk songs from her homeland are a matter of the heart – and a true musical treasure. With her critically acclaimed album "Home", she attracted attention with its emotionally charged, jazz-tinged arrangements – for example, "Home" "(…) was certainly an album of the year for Bayerischer Rundfunk , moving, powerful, superbly sung and played!".
The now released successor "Kupala", on which Gryniva works with loops, samples and other effects, sounds much more electronic. Here too, the Berliner by choice cleverly combines different worlds from jazz to Ukrainian folk to experimental music, and always with a strong reference to the original themes of the Ukrainian singing tradition such as love, sadness and the connection between everyday life and nature.
She repeatedly traveled to her old homeland to browse the archives for traditional folk songs and to record old grandmothers and grandfathers singing. She now presents the finds in her solo pieces – in an extremely original way. On the album, produced together with Tomáš Kaspar from London, Gryniva is supported on some tracks by Swiss drummer Julian Sartorius. When listening, it quickly becomes clear: the technology used serves the pulse of the music – as on the winter ballad "Hanya" or the love song "Obrutch".
Ganna likes songs that radiate optimism and a love of life, and on her solo album she has accentuated and developed this energy in a completely different way.
Two pieces from "Kupala" can also be heard in the award-winning documentary "Life after Butscha" (Grimme Prize 2023), which deals with Russian war crimes in the Ukrainian city of Butscha. The film's director, Mila Teshaieva, was so impressed by Gryniva's music that she used two pieces for the documentary. Gryniva: "Lebidonka is about Cossacks who defend their country while their relatives pray at home they come home unharmed. And "Misto" is a love song. Overall, this is an extremely powerful and in a certain way challenging film. On one hand, because it grips the audience and confronts them with great sadness. On the other hand, because it shows in a touching way how mentally strong the survivors are and how they support each other as they rebuild."
Together with filmmaker Peter Bräunig, Gryniva also completed her own documentary film "Spivanka". He conveys impressions of her trip to Ukraine in 2018. "There are scenes in which I talk to old women who sing to me and tell me their life stories." The film dives deeply into the soul of Ukrainian folk music – thanks to its protagonists, who remember the music of their childhood and keep it in their memory through oral transmission. It is images and scenes like these that illustrate the independent identity of the Ukrainian people. "Spivanka" was shown as part of the "WOMEX music expo" 2023, which took place in A Coruña/Spain at the end of October, 2023.
Ganna's new album presents a completely different musical approach to her quintet album, but it is in any case an affirmation of her dedication, versatility and brilliance and a further expression of love and hope.
She came to Germany from Ukraine with her parents in 2002 at the age of 13. Today she is one of the most impressive singers on the German jazz and world music scene. Her recently released album is called "Home" – full of stirringly beautiful songs in refined arrangements. A jazz highlight of the year, according to Roland Spiegel (Bavarian Radio Broadcast Station):
A mood and a voice that immediately captivate. A gentle pushing forward of tones. A – still – quiet celebration of the moment. A blossoming. It is the voice of singer Ganna Gryniva. Her new album "Home" begins with a song that is about spring. A folk song from the country from which Ganna Gryniva once came to Germany, the Ukraine. Even about spring one can hardly sing more beautifully than she does here. These shimmering colours in the voice. This pliancy of song. And this naturalness. These notes are like gentle and increasingly firm touches at a dance. And yet this is a song full of symbolic power at this time. Because spring is the season after a hard winter. The powerful new beginning after difficult months.
Behind the singer there is also an excellent band: the French saxophonist Musina Ebobissé, the Swedish pianist Povel Widestrand, the bassist Tom Berkmann from Bavaria and the Austrian drummer Mathias Ruppnig. A strong team for very expressive music.
One of the highlights of the album is a song about a mother and her son saying goodbye before he goes to war. He asks her for forgiveness in case he doesn't come back alive. It is a folk song that already gained significance in the winter of 2013 to 2014 – when over a hundred people lost their lives after the violent crackdown on protests against pro-Russian policies. It became a requiem for the victims. In 2022, this Ukrainian song is one of the most frequently sung.
It is deeply moving the way it is sung here. Interpreted in such a way that neither sentimentality nor excessive pathos arise. It is intimacy, it is beauty, and it is pain that is expressed here through fine and highly differentiated music. These recordings carry a deeply human message into the world. And it is precisely because this music also allows itself to be agitated and restless, and above all never smooth, that it is particularly gripping. Ganna Gryniva is a moving singer and interpreter, fascinating how directly she translates emotions into music. And an impressive mediator of songs that in these times – and sung in this way – should interest many people in the world.
Roland Spiegel, Bayerischer Rundfunk
Ganna Gryniva (UA/D), born in 1989, grew up near Kiev and moved to Germany with her parents when she was 13. The singer, composer, pianist and activist, who has been living in Berlin since 2013, unfolds her various cultural roots in music. She is actively committed to spreading the cultural heritage from Ukraine. In the GANNA quintet and in her solo programme for loops and electronics, she combines jazz with Ukrainian folklore, classical and experimental music, and in this way has found her very own way of passing on the old song heritage.In 2019, Ganna completed her jazz studies at the Franz Liszt Academy of Music in Weimar, where she studied with Michael Schiefel, Jeff Cascaro and Frank Möbus. She also holds a Bachelor of Arts in Philosophy from the University of Leipzig. Currently she is working on a new album with Daniel Santiago and Wanja Slavin.